Intermodal services are complex. They live from the topicality of the production possibilities. Intermodal customers expect reliable information when researching the desired train connection.
The current practice is a static representation of the extensive network via download on the company website.
At 4PL Intermodal, we want our customers to be able to present their network with the highest possible topicality and transparency.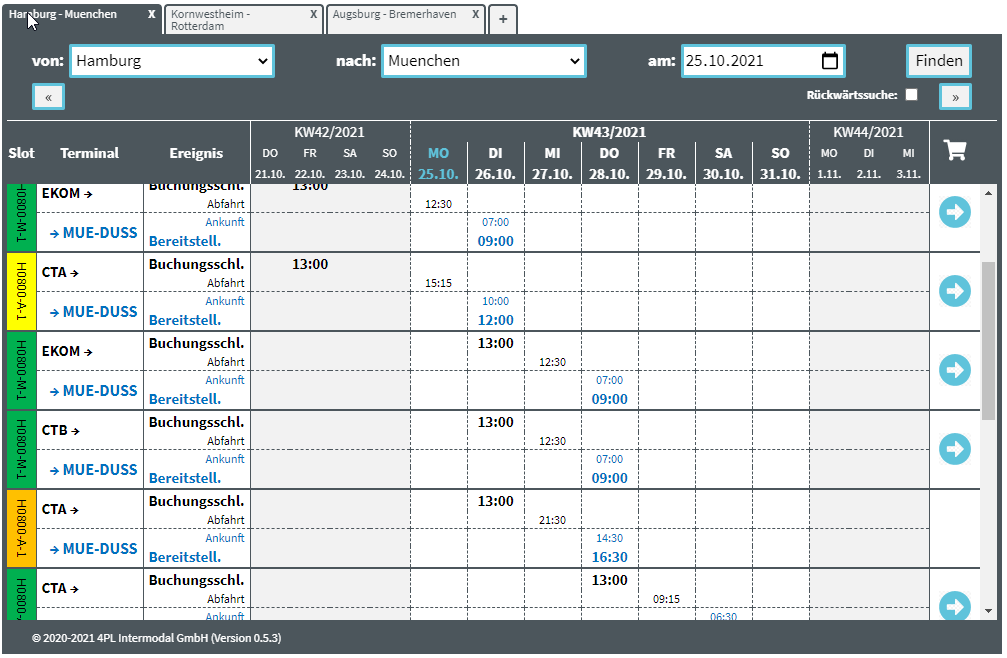 Based on the production network, the best possible production proposals are developed in IMSLOT. These are proposed in connection with the client's contractual basis for booking options.
This detailed work on your own intermodal production network is possible on the IMSLOT platform as well as via an interface. From now on, this variety of information can also be displayed on the company's own website.
All interested parties are provided with updated connection overviews with practice-oriented information in a freely accessible query module.
The following presentation criteria are currently implemented:
Relationsspezifische Abfragen
Zeitraumauswahl 1 bis 3 Wochen in einer Sicht
Vorwärts- und Rückwärtssuche bei der Relationsauswahl
Produktbenennung
individuelasierte Darstellung der Abfahrts- / Ankunftsinfrastruktorte
The current IMSLOT Module version 0.5.3 is the entry into sophisticated corporate communication of operative intermodal networks.
FAQ "Time Table"
How is a CO2 factor calculated?
The bases of the calculation are subject to the scientific criteria. Here, DIN 16258: 2011 is a guideline for calculation and evaluation.
Is IMSLOT already being used productively?
Yes, IMSLOT is being used productively by a steadily growing number of very well-known representatives of the intermodal transport industry. Due to the complex tasks in the transport sector, we grow consciously step by step and always with our partners and clients. In addition, IMSLOT modules are also used in research projects.
How long does it take to integrate a module on my own website?
The time required depends on whether a requirement has to be conceptually rewritten or whether we can already refer to a development at 4PL Intermodal.
It took us 4 weeks from the development to the integration of a module in the shortest possible time. This includes the conception as well as the test operation including LIVE gear.
In principle, we have had good experiences when we contribute to companies with iterative methods and successive implementation processes. This can mean up to 12 months of effort for those involved.
What criteria are used to select new IMSLOT modules?
IMSLOT modules are basically developed according to the needs of the IMSLOT customers and their users. The focus is on universal use for all IMSLOT customers. If this is an individual and exclusive requirement, this will also be taken into account. We are at your disposal for feature requests or suggestions.