Fahrpläne direkt aus
der Leit­zentrale
Intermodal services are complex. They live from the topicality of the production possibilities. Intermodal customers expect reliable information when researching the desired train connection.
The current practice is a static representation of the extensive network via download on the company website.
At 4PL Intermodal, we want our customers to be able to present their network with the highest possible topicality and transparency.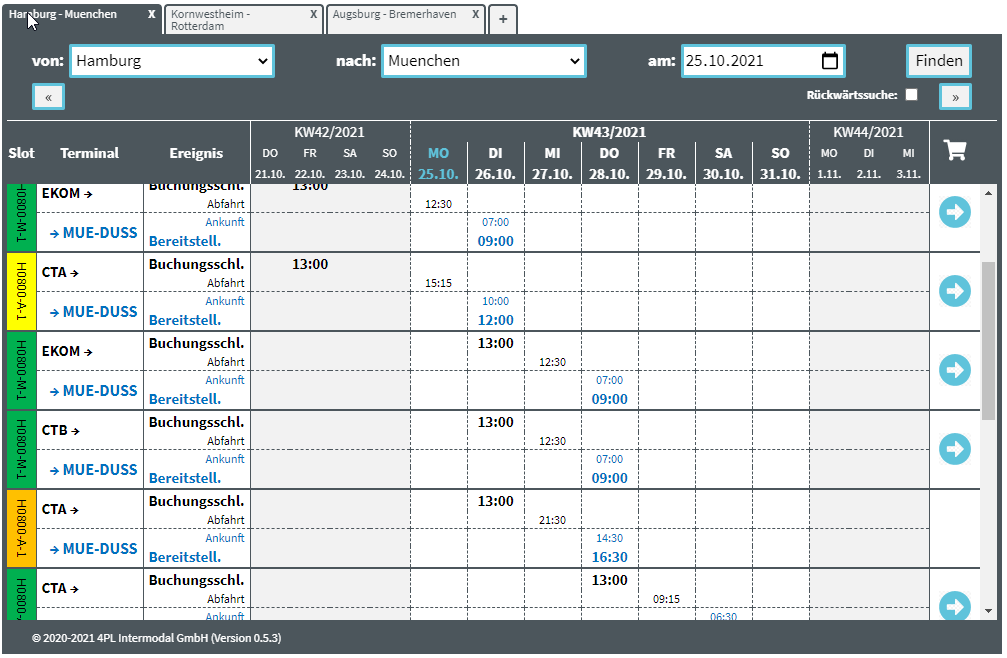 Based on the production network, the best possible production proposals are developed in IMSLOT. These are proposed in connection with the client's contractual basis for booking options.
This detailed work on your own intermodal production network is possible on the IMSLOT platform as well as via an interface. From now on, this variety of information can also be displayed on the company's own website.
All interested parties are provided with updated connection overviews with practice-oriented information in a freely accessible query module.
The following presentation criteria are currently implemented:
Relation-specific queries
Period selection 1 to 3 weeks in one view
Forward and backward searches in relation selection
Product naming
individual-based representation of the departure / arrival infrastructure locations
The current IMSLOT Module version 0.5.3 is the entry into sophisticated corporate communication of operative intermodal networks.