IMSLOT Modules
|
4PL Intermodal GmbH
22nd May 2020
IMSLOT Modules on stage
Modules is the name of the new product family from 4PL Intermodal.
"What does a 40`container cost me in transport?"
or
"Is there still space on the next train departure…?"
Wenn Sie diese Kundenanfragen immer wieder beantworten dürfen, dann können wir Ihnen mittels Softwarelösungen aus der Reihe IMSLOT Modules eine leistungsfähige Unterstützung anbieten.
Individual components are bundled in the modules, each of which contains an interface to IMSLOT. Capacity LookUp can be integrated by combined transport service providers on their own web presence. This is practical and extends your customer loyalty in your typical style.
This way they gain new customers even without having had a direct freight payment relationship in advance. They offer quick concrete statements for the important questions; without loss of time and organisational effort at the respective time of the enquiry.
The first module of the family is called – Capacity LookUp
This functionality allows our customers, in turn with your customer, to be able to make predefined information requests about your services stored in IMSLOT. Your customer receives exact information on journey time, availability and price in response to previously formulated search parameters. Your customer can select one or more options from your offer and have all relevant data on his demand and the selected service sent directly by e-mail.
The second module of the family – Advanced Booking – represents a consistent further development.
Here, too, customers can immediately see via their enquiries whether there is a suitable offer from their company in this regard. If one is selected, it can also be booked immediately. In this way, you receive electronic order entries from your customers. In this way, you increase the quality of orders in your company and ensure that orders are carried out according to customer specifications.
Capacity LookUp was specially designed for companies with container trucking and container rail transport. The first practical experiences confirm the expectations of the entrepreneurs after only a few days.
Your personal B2B contact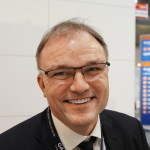 Nils Olaf Klabunde
Geschäftsführung
Nils-Olaf Klabunde ist seit über 20 Jahren im intermodalen containerisierten Güterverkehr in unterschiedlichen Positionen aktiv.