research
|
4PL Intermodal GmbH
16th June 2021
IPIC 2021 – Presentation of PhysICAL
Towards a smart hyperconnected era of efficient and sustainable logistics, supply chains and transportation IPIC 2021 – 8th International Physical Internet Conference June 14-16, 2021 | Virtual
The PhysICAL project and our involvement with IMSLOT Modules technology were scientifically deepened at the conference with a separate session.
SESSION 6    Transportation planning and collaboration    Moderated by Matthias Prandtstettern, AIT Austrian Institute of Technology
Sahrish Jaleel Shaikh, Benoit Montreuil, Moussa Hodjat-Shamami and Ashish Gupta. Introducing Services and Protocols for Inter-Hub Transportation in the Physical Internet 
Lukas Gosch, Matthias Prandtstetter and Karl Franz Dörner. On Modelling and Solving Collaborative Tactical Transportation Planning 
Matthias Prandtstetter, Georg Brandstätte, Lukas Krasel. Optimising Container Transports in Collaborative Roundtrip Scenarios 
Carles Pérez Cervera, Valenciaport Foundation. Collaborative Service-Dominant Business Model Design for a Just-In-Time rail shuttle service at the port of Valencia 
Julian Stephens MJC2, Synchromodal Algorithms in the Physical Internet 
Mr. Matthias Prandtstetter, the scientific director in our pilot 4 of the "open transport platform", together with Mr. Georg Brandstätte, described the effects of optimized round trip scenarios under the influence of collaborative elements.
Your personal B2B contact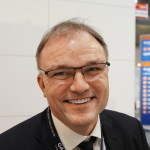 Nils Olaf Klabunde
Geschäftsführung
Nils-Olaf Klabunde ist seit über 20 Jahren im intermodalen containerisierten Güterverkehr in unterschiedlichen Positionen aktiv.