LIVE tracking with container trucks into your own TMS? – A must have!
IMSLOT generates automated high-value and multi-layered validated bookings of the intermodal customers for the service providers.
In the further process, these bookings are led from the PLAN value to the ACTUAL value in the case of a physical implementation on site; this is the case when the truck starts its tour.
There are already assteholders on IMSLOT who exchange this LIVE data with their customers, e.g. in trucking, for an expense fee.
IMSLOT Modules supports this requirement. Via an interface as well as via the dashboard, the customer can track his booked tour LIVE on a map.
The expected time of arrival (ETA) is calculated and delays / postponements can thus be detected and replaced in good time.
In January 2020, 4PL Intermodal received an order from various intermodal providers to implement this functionality on the basis of geo-fencing.
In this project, the challenge is to assign the truck tours exactly to the right transport, independent of manual support from the truck drivers. This is also under the condition of complex handling modalities that are often not noted in the orders (pre-collection / unsaddling / customs stops / rotators …).
Today, we are able to reliably implement the requirements of our customers and now supply, among others, the IoT specialised start-up company LinkedDots from Bangalore, India, which was founded in 2015. This company implements this requirement for its client with container tracking data e.g. every 15 minutes. The container number and order number are assigned to a transport and can thus be used for the customer's TMS.
Your personal B2B contact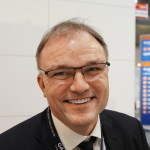 Nils Olaf Klabunde
Geschäftsführung
Nils-Olaf Klabunde ist seit über 20 Jahren im intermodalen containerisierten Güterverkehr in unterschiedlichen Positionen aktiv.