ReMuNet – Resilient multimodal freight transport network
The research project, funded by the European Union, was officially launched on 01.07.2023 and is scheduled to run for three years. The consortium leader is the FIR, Aachen. The FIR is a non-profit, cross-industry research and training institution at RWTH Aachen University in the field of business organization, information logistics and corporate IT with the aim of creating the organizational foundations for the digitally networked industrial company of the future.
The European project is composed of the following undertakings
FORSCHUNGSINSTITUT FUER RATIONALISIERUNG / 52074 AACHEN, Germany
SVENSKA HANDELSHOGSKOLAN / 00100 HELSINKI, Finland
PTV PLANUNG TRANSPORT VERKEHR GMBH / 76131 KARLSRUHE, Germany
4PL INTERMODAL GMBH / 27356 ROTENBURG, Germany
MANSIO GMBH / 52074 AACHEN Germany
FRAUNHOFER AUSTRIA RESEARCH GMBH / 1040 WIEN, Austria
HAFEN WIEN GMBH / 1023 WIEN, Austria
WHITE RESEARCH SRL / 1060 SAINT GILLES, Belgium
UNION INTERNATIONALE DES SOCIETES DE TRANSPORT COMBINE RAIL-ROUTE SCRL (UIR) / 1000 BRUXELLES, Belgium
CONTARGO GMBH & CO KG /47119, DUISBURG, Germany
CONTARGO GMBH & CO KG /47119, DUISBURG, Germany
DANSK RODE KORS / 2100 COPENHAGEN, Denmark
DANSK RODE KORS / 2100 COPENHAGEN, Denmark
ALLIANCE FOR LOGISTICS INNOVATION THROUGH COLLABORATION IN EUROPE (ETPALICE) / 1200, BRUXELLES, Belgium
SCHACHINGER IMMOBILIEN UND DIENSTLEISTUNGS GMBH & CO OG / 4063, HORSCHING, Austria
On our extra page in the research section, we go into more detail about the project in individual articles.
Your personal B2B contact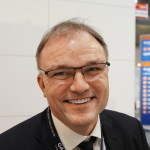 Nils Olaf Klabunde
Geschäftsführung
Nils-Olaf Klabunde ist seit über 20 Jahren im intermodalen containerisierten Güterverkehr in unterschiedlichen Positionen aktiv.