DVWG 16 Baltic Transport Forum / Presentation of IMSLOT
On 7 November 2019 90 participants from Germany, Sweden and Poland met at a rail transport conference. conference: the focus was on questions relating to passenger and freight transport from a and freight transport were discussed from a scientific, political and economic economic point of view. Is rail transport the driving force or the bottleneck for the maritime the maritime economy and population in Mecklenburg-Vorpommern?
In four sessions extensive details in informative and expert impulse lectures. impulse lectures. At the end, it was clear, at least for Dr. Pahnke, that that rail freight transport is only just getting started and that collaboration between all collaboration of all participants is a necessary prerequisite for this.
---
Session 1: Development and prospects in passenger transport in MV 8
Moderation: Prof. Dr. Reise, DVWG Mecklenburg-Vorpommern e.V. / University of Applied Sciences Wismar
Grußwort der Landesregierung Dr. Rainer Kosmider, Ministerium f. Energie, Infrastruktur und Digitalisierung
Planungen des Schienenpersonennahverkehrs in MV im Kontext Schieneninfrastruktur und Finanzen Dr. Rainer Kosmider, Ministerium f. Energie, Infrastruktur und Digitalisierung
Development of long-distance passenger rail services in MV from the point of view of the Deutschlandtakt. Robert Ohler, DB Fernverkehr Offer Planning
---
Session 2: Hardware infrastructure: basis for efficient rail transport
Moderation: Arvid Kämmerer, DVWG MV e.V.
Development of the rail infrastructure in the northeast – service provider for maritime hinterland transport Arvid Kämmerer, DVWG MV e.V.
DB Netz and seaport hinterland transport – capacity and quality in focus for the next few years. Renado Kropp, DB Netz AG
Capacity and quality development through digital interlockings and ETCS – example pilot project, Berlin – Rostock and Rostock node. Ingo Buhlke, DB Netz AG
---
Session 3: International trends / focal points of maritime developments
Moderation: Prof. Dr. Reise
Future use of rail ferries – conditions and dependencies Ron Gerlach, Stena Line
Current state and recent developments in swedish rail hinterland traffic Richard Kirchner, Green Cargo
Latest developments in polish port hinterland rail transport Robert Marek, Gdynia Maritime University
---
Session 4: Forum Güterverkehr in Mecklenburg-Vorpommern
Moderation: Dr. Bernd-Rüdiger Pahnke, TFG Transfracht
Introduction and introduction to the contributions Dr. Pahnke, TFG Transfracht
Optimising Finnlines' activities under the current challenges Uwe Bakosch, Finnlines
IMSLOT – einfach KV buchen! Nils-Olaf Klabunde, 4PL Intermodal
Log logistics at the port-rail interface Steffen Borstel, Baltic Wood Transport
moderated panel discussion Anfragen | Dr. Pahnke und Referenten
Your personal B2B contact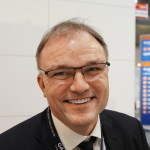 Nils Olaf Klabunde
Geschäftsführung
Nils-Olaf Klabunde ist seit über 20 Jahren im intermodalen containerisierten Güterverkehr in unterschiedlichen Positionen aktiv.