IMSLOT Modules
|
4PL Intermodal GmbH
12th April 2023
Vessel Tracker card game
Solving challenging tasks in a playful way and imparting intermodal knowledge at the same time. – Is that possible? Our approach with the 4PL Intermodal GmbH giveaway in the form of a digitized "Vessel Tracker" card game gets to the heart of the matter.
In an excerpt of 4 important ports for the economy in Germany, we have developed functionalities that are of enormous importance in the supply chain.
The seaports of Rotterdam, Hamburg, Bremerhaven and Wilhelmshaven have more than 30 quays for containerized goods traffic at sea. On some days, a total of up to 50 ships dock at these quays.
The monitoring of the exact delivery times in the export as well as the collection of the imported goods means a daily routine for the dispatchers in the forwarding companies. The task of the Vessel Tracker module is to support this activity in a meaningful, reliable and integrative way. In order to ensure this in the best possible way and in a constantly evolving manner, we at 4PL Intermodal have enormously expanded our information on ocean-going vessels and quay operations.
A first illustration of what we have gathered with the container ships as well as their quay operations to be called is the game "Vessel Tracker Quartet". Dive into our intermodal world and start questioning your knowledge about ships and seaports. We wish you good entertainment with this game.
Your personal B2B contact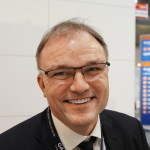 Nils Olaf Klabunde
Geschäftsführung
Nils-Olaf Klabunde ist seit über 20 Jahren im intermodalen containerisierten Güterverkehr in unterschiedlichen Positionen aktiv.