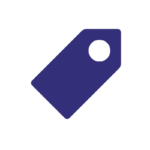 Not all information is always available when booking the transport.
Individually definable action parameters remind the customer of expiring deadlines and warn in good time if these are not adhered to.
We differentiate between the action parameters according to different properties. The following are currently set up and enjoyed frequently
Return reference
Discharge reference
Collection terminal (inland)
PIN (sea port)
High security seal
Coordinate the time
Ship end of loading
End of loading rail
Closing port export
Booking no. Train
Exempt from presentation
These can be specifically and individually introduced based on the format (e.g. currency or text), the time (date) or the event.
The knowledge gained from the action parameters can then either be combined on an overview of "missing values" in order to be processed there. It is then also possible to set up an individual information management system and to inform the relevant departments / clerks about it by e-mail.
Weitere Features von IMSLOT
Questions & Answers about Action parameter IMSLOT